Happy Wedding Wednesday lovies!! We are in the 4 months away home stretch and I still can't believe how quickly time is flying!! I'm starting to get preparations for my big move to Texas, looking into jobs, etc...becoming so so real right now!!
I was so happy that this past weekend I was able to mail out the last of our wedding invitations, including all the international folks! Let's just say phew, that's a relief...now it's just time to play the RSVP game!
This past weekend we also got in the bridal shower invites and I'm so so happy with how they turned out! We ordered them through
zazzle.com
and I couldn't have been happier with the service we recieved. These shipped super fast and I had them less than a week after purchasing them. Plus they always have great sales running on their site, so we got 50% off the total purchase! The best perk was that you were able to personalize the invites for free with photos, I took advantage of this and added one of our engagement pictures on the back of the invite.
(I'm not getting paid to talk about them, I was just really happy with how the invites turned out)
It goes so perfectly with the rustic theme with the mason jars and wood-like background!! Less than 3 months until the bridal shower, can't wait to see how everything comes together in the end!
**********************
Now it is your turn! We would love to have you link-up with your wedding tales, planning adventures and day-of
memories.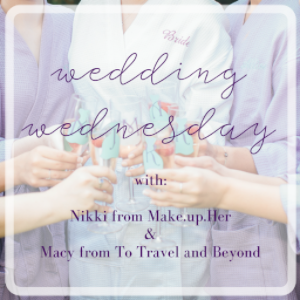 As always, we would love to have you linking up with us and sharing your wedding inspiration, stories and photos of your own! Just please remember to link back to either mine or

 Macy's

 blog in order to keep the Wedding Wednesday fun going around.