Hey everyone! Amber over at Brunch with Amber is hosting an entire week of giveaways to celebrate 2 years of blogging!! This is such an accomplishment for her and she is hosting some pretty awesome giveaways.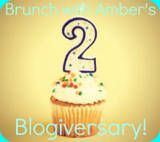 Her first giveaway is today and it is a "girly prize package" for all you girly girls out there go and enter her giveaway today and all this week for a chance to win her fabulous prizes!!
Good Luck to all who enter!!